Launching Matillion ETL - SaaS Billing from AWS Marketplace
Launching Matillion ETL - SaaS Billing from AWS Marketplace
---
Attention:
If you are familiar with our past marketplace listings, or you are looking for Matillion ETL for Snowflake or Matillion ETL for Redshift, you are in the right place. We have updated how we offer Matillion ETL to you, to give you more flexibility in how you consume the product. To launch a trial or a full version of Matillion ETL, continue to subscribe and visit support.matillion.com for more information.
Overview
Matillion ETL provides users with data loading and transformation solutions built for the cloud, for Amazon Redshift, Snowflake, and Delta Lake on Databricks. Our cloud-native ETL helps customers bring data into the cloud and take full advantage of the power of the cloud to make data useful.
Matillion ETL provides data professionals with an enterprise-grade data transformation solution that is built for the cloud. Load data into Snowflake, Redshift or Delta Lake on Databricks using data source components for APIs, databases, SaaS applications, files, and NoSQL sources.
Note
You can access the Matillion Hub through AWS marketplace, where you can manage your Matillion ETL instances and subscription. For more information refer to the implementation steps described below.
For more information about registering for an account and using the Matillion Hub, refer to the Matillion Hub documentation.
This article describes how to launch and connect to Matillion ETL for Snowflake, Redshift, and Delta Lake on databricks from the AWS Marketplace.
Launching Matillion ETL Products from AWS Marketplace.
To launch and configure Matillion ETL, select Matillion ETL - SaaS Billing from the AWS Marketplace and start the launch/setup procedure. To do this, use the following steps:
Launch the AWS Marketplace. On the homepage, enter "Matillion" in the search bar. The Matillion ETL - SaaS Billing link will appear. Click Continue To Subscribe on the far right-hand side of the link.
Note
If you are not already logged into AWS Marketplace, you will be prompted for your AWS account credentials.
Depending on your current setup, you may also need to click Subscribe on the next page.
To begin using this software, you will be redirected to the Matillion ETL - SaaS Billing website. Simply click Set Up Your Account to set up your account, and complete your registration. If you are unable to complete your registration, you can always return here through the Your Software page on AWS Marketplace, and manage the subscription of your account.

Set Up Your Account
You will be redirected to the Matillion Hub website. If you do not have an existing Matillion Hub account, you will be required to register for one. To do this, click Sign Up and provide the required details. For more information about the account set up process, read Registration.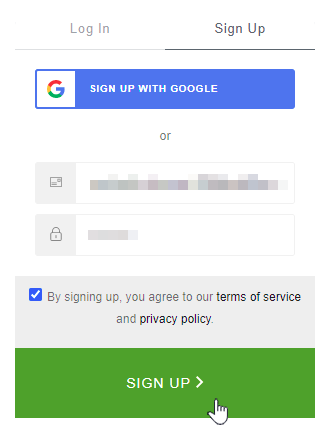 Once you have completed the Matillion Hub registration process, click Continue.
Create Instance
The Select your service page will be displayed where you can create your first Matillion ETL instance. To do this, click Add Matillion ETL instance and follow the instructions from step "2. Cloud Data Platform:" onwards, as mentioned in Matillion ETL Instance Creation.
The system will prompt you to continue the setup in your chosen Cloud Provider (AWS) using the information you have provided so far, whilst creating the instance. Please follow the steps of configuring an instance in AWS.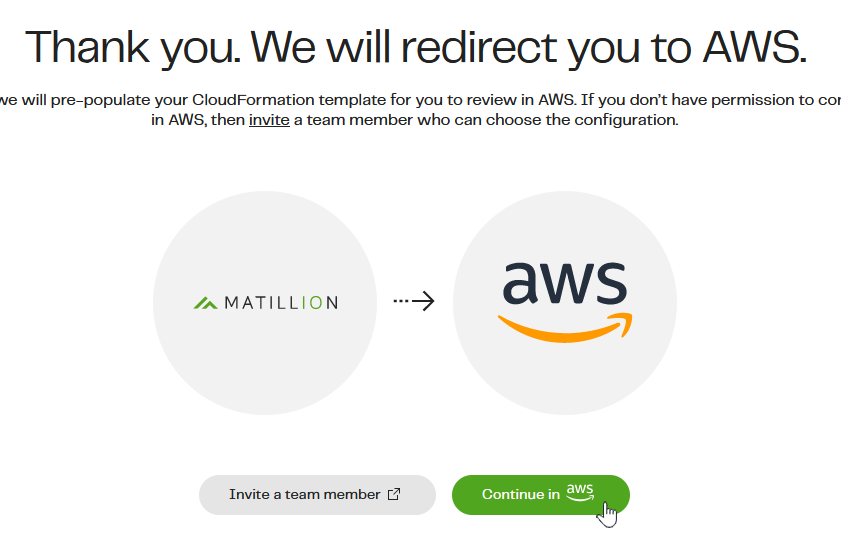 The rest of your setup is highly-dependent on your above choices. Please consult the following documentation for further details:
Note
If you don't have permission to configure CloudFormation in AWS, then share these selections with a team member who can choose the configuration for you. To do this, click "Share with a team member".
Associate Instance
When a Matillion ETL instance is first launched via the Matillion Hub, it must be registered with the Matillion Hub before it can be used.
Now you have created an instance, you are required to associate it with your Matillion Hub user account. For more information, read Associating a Matillion ETL Instance.
Next steps
If you have an existing Matillion Hub account, go straight to Manage Subscription.
---
What's Next