Overview
Matillion Data Loader (MDL) is a SaaS (software as a service) Data Loading platform that copies data from popular data sources into a cloud data warehouse. We built this tool for businesses who are looking to get started with cloud data warehousing, or those looking for a simple way to move large amounts of data.
Matillion Data Loader offers two ways for data loading process:
Batch Load Replication:
Provides a full SaaS incremental data loading experience to extract, transform and load data at user specified time intervals from source to cloud data warehouse / platform destinations, such as Snowflake, BigQuery, Databricks Delta Lake and Redshift.
Change Data Capture:
Provides a Hybrid SaaS log based streaming data loading experience to capture real time change event information from source databases and delivered in near real time in an cloud data platform optimized format to destination data lakes such as AWS S3 and Azure Blob storage.
We support a wide range of data sources, such as Salesforce, Jira, and Google Analytics. The cloud data warehouses we support are: Snowflake (AWS and Azure), Amazon Redshift, and Google BigQuery. Matillion Data Loader works on several web browsers, such as Google Chrome and Firefox.
Within the Matillion Hub, follow these processes to sign up for Matillion Data Loader:
Register and sign up for a Matillion Hub account.
Follow the prompts to configure your profile.
As part of the registration process, create an account, and select your chosen subdomain.
Select Manage Matillion Data Loader Pipelines, in the Selecting your Service page.
Select your previously created account, and you will be directed to the Matillion Data Loader Dashboard.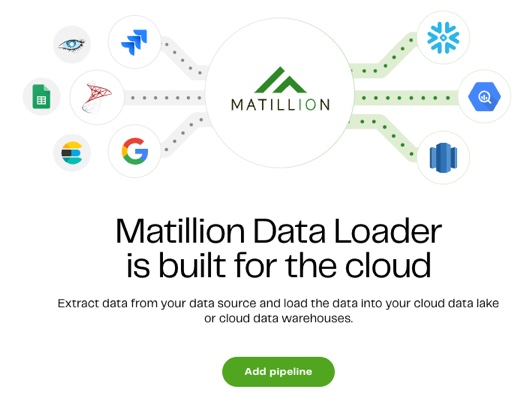 Note
For more information about the sign up process for Matillion Data Loader, refer to Signing up for MDL.
---
Useful Links
For general information about Matillion Data Loader, refer to Matillion Data Loader Overview.
For a more detailed look at the features of Matillion Data Loader, read Matillion Data Loader Dashboard.
---
What's Next